Begini ceritanya...
I left home at 9 something. After about 10 minutes of walking and waiting for the bus, I've decided to take the cab instead...and paid RM5 for a 5minutes journey.
After waiting nearly 15-20minutes at the KTM Segambut (and paid RM1), they announced that the next train is NOT gonna arrive in at least 40minutes. x-x" I can't wait that long.
In the hot nearly-midday, I walked across the highway tryna catch a cab from the other side (don't ever do this! VERY DANGEROUS!). I saw a U7 bus coming . I have no idea what U7 meant, and where is it heading to, but seriously, it doesn't matter. =P Naik saja!
Went all the way to Sentul, Chow Kit, Sogo, Dataran Merdeka, and finally, Bangkok Bank (which what I now know, route U7 ). From there, walked a bit to LRT Masjid Jamek.
Wait, did I tell you where I'm going?
Ehehe..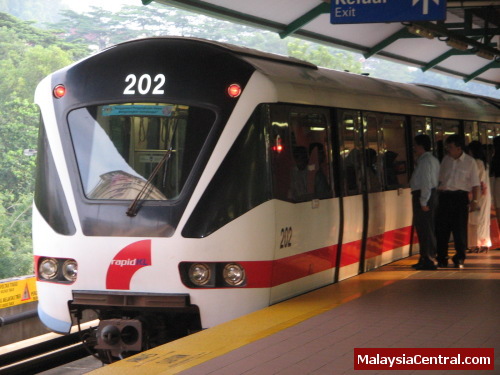 I know the place that I want to go to is in Jalan Ampang, so I took the one heading for Ampang.
The problem is;
How many lines are they and where are they heading to and what stations are there?!!
Why?
Because there's not a single map of the lines on the platform!
So, considering someone in a rush like me..
PLEASE PUT A MAP OF THE LINES' STATION ON THE PLATFORM.
(Kelana Jaya's line seems to have this)
PLEASE SHOW OTHER LINE'S ROUTE AS WELL INSIDE THE TRAIN.
To those who thinks it's a common sense that someone should know all about these lines by now, well it's not. Don't assume that everyone is a frequent user of the trains here.
Since I am supposed to head to Ampang, I took the Ampang line because I couldn't find a BIG, PROPER ROUTE MAP even around the ticketing area. T-T" (Ada tu ada, tapi keciknya, kesian mokcik-mokcik nak carik stesen)
Sangat tak user friendly. (cries) hangpa yang buat sistem naik dak tren?
Anyway, going from Masjid Jamek, I realized that I am going far far away from KLCC(heading to Pudu dah!) and decided to go back to Masjid Jamek and figure out what OTHER LRT LINES there are - and where do they go to sebab its not written anywhere in the platform. Since the other side is going to Sultan Ismail.. I decided to get down from there (paid about RM2.50), walked about looonggg minutes of forever - and finally ended the crazy trip by taking a cab; to Wisma MCA Jalan Ampang (RM 6).
Dari kedekut nak naik cab dari rumah.. Inilah padahnya. [sebenarnya, saya sangat2 tak gemor naik cab NIH. Takut! cume memikirkan apa salahnya bagi pokcik2 teksi duit makan lebih]
11:30am. I am finally here. at the US Visa Collection Center, and I'm done in less than 10. =$
12:00pm Off to Shah Alam by KTM.
Kerana bonda tak beli lagi baju raya dan kuih-muih raya, gagahkan jugaklah pergi sampai Shah Alam. N memang rasa nak deman. My nose is running like a broken pipe; sakit kepala, and only had 15 minutes of sleep last night; gara2 nak mencari Lailatul Qadr, tapi sempat lagi pegi mamak kejap, tengok movie kat YouTube kejap.. X)
(complaints and ways to improve KTM will come in a different post. LoLs yeah, I do complaint a lot; since I won't settle down in a terrible fact of life)
A lady in KTM once told me,
"Things are terrible, but face the fact, you're not in Japan!"
and I replied, "Why must I face the terrible fact? I rather change it".
Ok-ok. Officially going to a fever state. Dah batuk-batuk and muntah-muntah. Hope it's not for long.